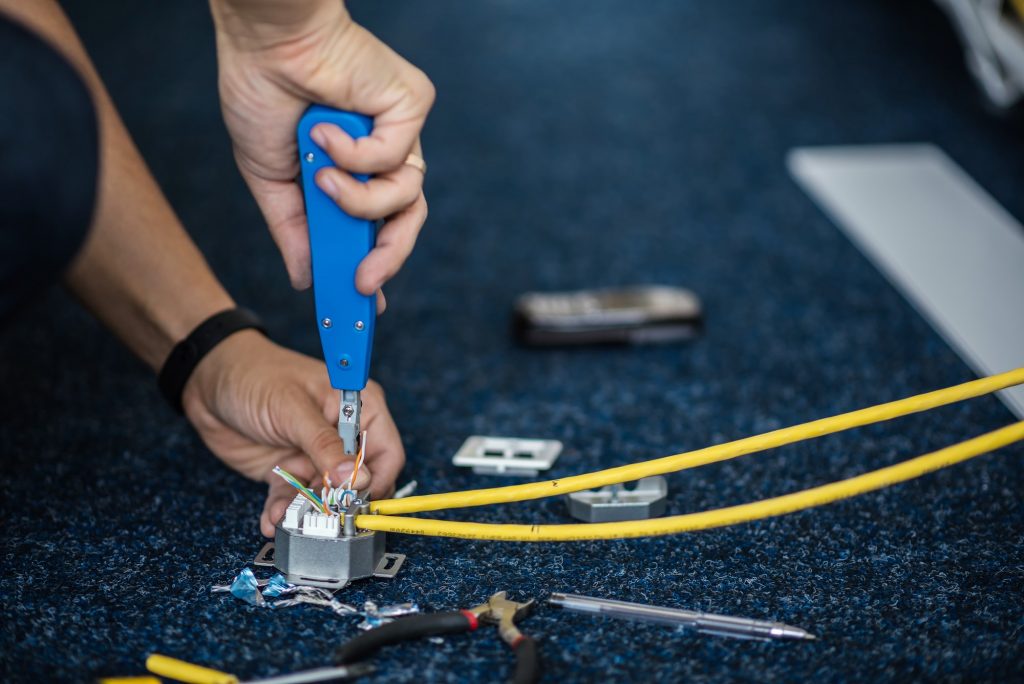 Today, technology is rapidly taking control over most commercial and industrial operations. The internet is among the leading technologies transforming the global business environment. That is why every business that is thinking of competing in the world stage should be connected to the online grid. While there are many systems and appliances that must be put in place for internet connectivity, the upgrade should start with installing data and LAN cables.
Benefits of Data and LAN Cable
Generally, the Internet of Things is a reality that many commercial and industrial establishments have integrated in their day-to-day operations. However, there is a handful companies not only in Singapore but, across the world that still rely on the old staples. The following are some of the benefits of installing data and LAN cable that you can attain whenever you switch to this innovative technology.
Better signal stability and consistency
Unlike wireless connections, cabled connectivity has superior stability and consistency that will enable you to conveniently perform the intended tasks. Data and LAN cables are not prone to disruptions or bandwidth hindrances, making sure that you have stable internet connectivity with optimum speeds throughout. Installing data and LAN cables can help you put a stop to frequent internet disconnections and slow connections.
Easy scalability
In the ever expanding business environment, commercial and industrial establishments use virtual networks to centralize operations. Creating a virtual network ensures efficient interactions between businesses, employees and customers while also facilitating consistency in service delivery. As such, it is critical to have systems that can be easily scaled to support the on-going activities and also meet the growing needs of the business. With data and LAN cable connectivity, you can easily expand the network to effectively cater for all your present and future operations.
Enhanced security
The internet is one of the most popular playgrounds for criminals today. In the event of an intrusion, you could lose valuable information and other privileged materials. As such, it is critical to have secure systems that criminals cannot easily interfere with. Data and LAN cable provide physical connections that can be monitored round the clock to avoid unrestricted access.
Unlike Wi-Fi connections that can be picked up by anyone in the area, data and LAN cable requires that one must physically connect to the system. This ensures that you have proper control over the network to avoid costly infiltration.
Professional Data and LAN Cable Installation
Judging by the benefits of data and LAN cable discussed above, there is no doubt about their essence in every business and home. However, you can only experience the benefits by choosing quality and suitable data and LAN cables and making sure that they are correctly installed. At Electrical Service Singapore, we are the trusted company for commercial and industrial electrical services that can help you achieve all that with the least effort.
We specialize in professional data and LAN cable installation, serving offices, homes, businesses and corporate organizations in Singapore. Our company has a well organized team of trained technicians with experience in various aspects of data and LAN cable installation. Whenever you hire us for the services, our consultants will first visit and perform a structural analysis of your property to understand your specific needs.
Generally, clients often have unique demands and expectations as well as concerns when it comes to data and LAN cable installation. To make sure that you get the best solutions, we always emphasize a personalized approach when dealing with clients. Depending on the layout of the property or other structural features, client preferences and budget, we will first help you to choose quality and efficient cables as well as relevant components.
Our company will also issue an accurate quote before the installation so you know exactly what to expect. The quotation is always prepared in consultation with clients so you only get the desired service. With all the hardware and quotation in place, our technicians will proceed to install the cables and their components as required. Besides, we will also help you with setting up the data points and other appliances that will be used in the network.
At Electrical Service Singapore, we are committed to offering lasting data and LAN cable installation solutions for every home, office and business. Contact us today for professional data and LAN cable installation Singapore.
HDB Registered Contractor
License Number: HB-09-5474D