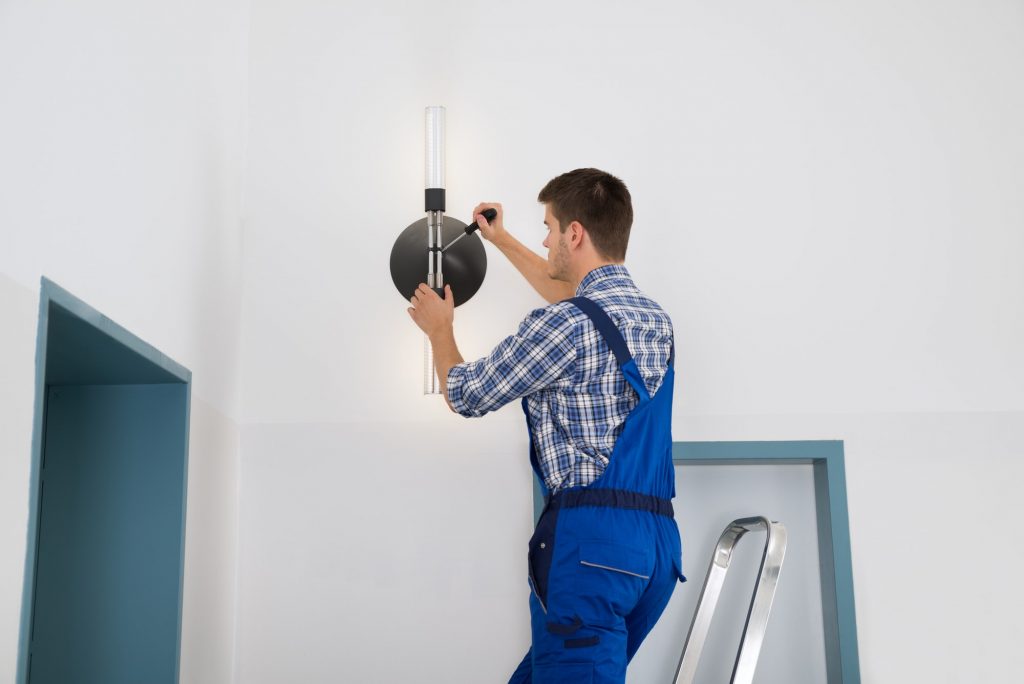 Lights can easily create an instant transformation to your living and work spaces. Properly installed lights offer both functional and aesthetic benefits that will truly set your spaces apart. The obvious reason for installing lights is to brighten up spaces and improve visibility in dark spaces as well as at night. However, installing lights can also significantly improve the overall feel of your interior spaces, making them beautiful and stylish.
Different light fixtures and strategic positioning can be used to create unique effects that define various sections or rooms in the building. With the wide range of lighting systems and fixtures available in the market today, there is no limit to what you can achieve with lights in your home, office or business. Nevertheless, it is critical that the installation of the lights is done by a professional to make sure that you get the desired results from them.
At Electrical Service Singapore, we specialize in professional light installation solutions for residential establishments and businesses across Singapore. We understand the unique needs of home owners and businesses when it comes to lighting and, have the expertise to fulfil all your expectations. We understand all the common light installation problems and how to overcome them, hence, a guarantee of tailor made light installation solutions for your spaces and budget.
Custom Light Installation Service
Generally, there are different reasons for installing lights in living and work spaces. Besides, lights can also be installed in different rooms or sections of a building. Whatever you preference may be, we provide comprehensive lighting installation solutions that cover a wide range of spaces. Our light installation service can also be tailored to complement your specific lighting needs.
Our Main Light Installation Solutions
Living room and bedroom lighting
Your living room should not only be well lit but, also exhibit your personal style. The bedroom on the other hand, should be given a cosy and warm lighting with dimmer fixtures. To achieve all these, we can install custom lights for your living room and bedroom. The lighting solutions that we recommend for living rooms and bedrooms include LED lighting, downlight, ceiling lights, hanging lights and recessed down lights. But, we can still install other types of lights or fixtures that you may want in the living room and bedroom.
Kitchen and bathroom lights
The areas where you prepare your food and bathe should also be well lit to avoid accidents and, also promote better hygiene. However, you may also want to include fancy lights in these areas to enhance their appeal. Since these areas are prone to water and other elements that can damage electrical systems, installing lights therein requires a lot of caution. Our electricians can help you in achieving all those expectations with custom kitchen and bathroom lighting. For kitchens and bathrooms, we install LED lights, ceiling lights and wall lighting.
Apart from the lighting solutions discussed above, we also specialize in installing lights on other sections of residential and business spaces. Other areas that we also cover include.
Regardless of where you want to install lights in your home, office or business, we can provide a personalized service at your convenience.
To us, light installation is not just about putting up the lights at the designated spaces. Instead, we believe the process should start with choosing suitable lights and lighting fixtures. That is why our electricians will first discuss with you about the best lighting fixtures and lights for the project beforehand. Besides, we will also conduct a proper inspection of the spaces to determine the best lighting approaches that will meet your needs.
Depending on your reasons for light installation, the spaces where you intend to erect them and budget estimates, our electricians will recommend the best lights and lighting fixtures for the project. Before the installation, we will also submit an accurate quotation to cover all the procedures so you know exactly what to expect. We always create unique quotations tailored to the specific needs of every client.
Order the Best Light Installation Service Singapore
Electrical Service Singapore is the right company that guarantees reliable and affordable light installation solutions. Contact us today for the best light installation service Singapore.
HDB Registered Contractor
License Number: HB-09-5474D