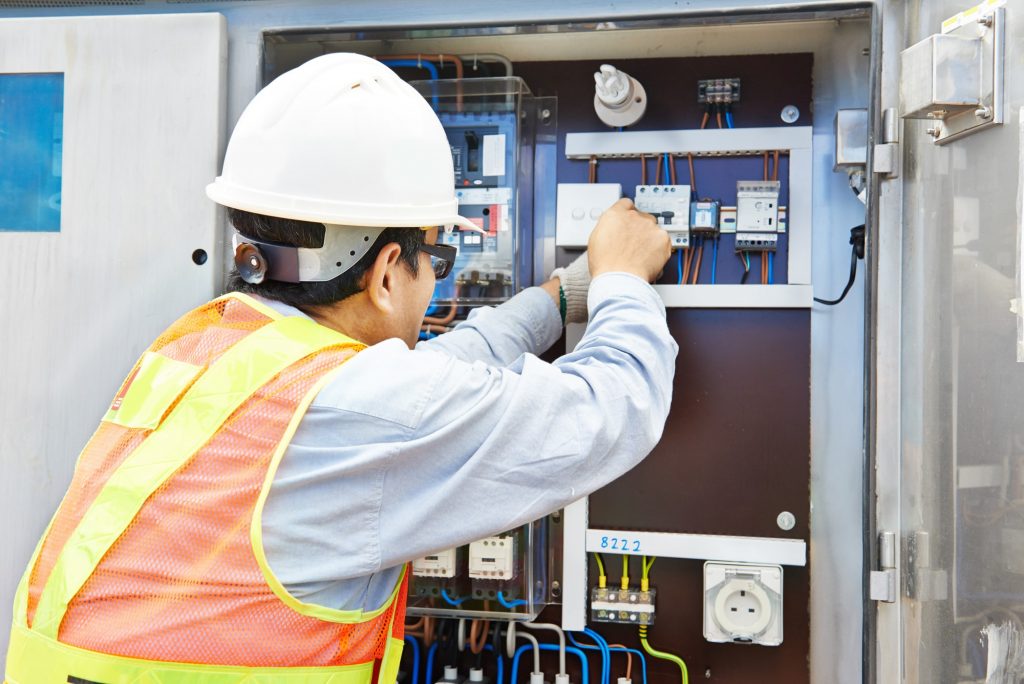 Today, there are quite a number of electrical appliances and systems found in homes, offices, and businesses across Singapore. To ensure that they effectively serve your electrical needs over time, proper installation, upgrade, repair and replacement is always advised. While there are some common electrical problems that might look like DIY projects, you should hire a professional electrician to handle the job for safety, time and cost savings.
Electrical Service Singapore is the specialist in electrical engineering service that you can always rely on for professional general electrical services. We have highly trained electricians with experience in the industry to serve you on demand for unrivalled convenience. For quality assurance, we always offer a warranty of 30 days for every service that you get from our company.
We offer the following general electrical services.
A circuit breaker is one of the most critical components of every building's electrical wiring system. It serves as a cushioning against electrical surges that may impact dangers like house fires. Whether you need circuit breaker installation, repair or replacement, our company can offer the best service at your convenience.
Electrical faults are common not only in busy business and commercial environments but, in homes too. Although some may look simple and easier to fix, working on them independently could only cause more problems than intended. At Electrical Service Singapore, we provide professional electrical repair and replacement services that cover ceiling fans, lighting, switches and distribution box.
Every once in a while, power trips and power failures are experienced in different parts of Singapore. Apart from the frustration associated with power failures, they could also heavily weigh on the productivity of businesses. To easily resolve the issues, simply talk to us for professional power trip and power failure service.
Installing and upgrading electrical wiring systems is a complex task that takes time and precision. In fact, even slight mistakes could have dire consequences on the entire property. Instead of taking the risks, simply get our electrical wiring installation and upgrade service.
The correct installation of electrical appliances and fixtures is a task that not only requires skills and experience but, special tools and equipment too. Hiring our professional electricians for electrical installation services will save you time, money and also the risks of doing the tasks on your own.
Electricity is undoubtedly a critical power source for homes, offices, businesses and factories. For the electricity to be efficiently tapped from the supply channels, you need sockets and power points installed across the rooms. We also offer custom power socket and electrical power point installation services.
An electrical distribution board/ electrical panel/ electrical board or breaker panel is recommended to prevent the frequent occurrence of issues like power trips and failures. Whether you are renovating an old building or looking to upgrade your home's electrical systems, we can deliver the best electrical distribution box installation service.
Electrical switches enable you to conveniently control the usage of electricity in your home, office or commercial establishment. However, the switches can only be effective if they are installed appropriately. And, our company is the expert in electrical switches installation to engage for your project.
Some electrical problems usually have signs that can help with fast diagnosis. However, there are also several situations whereby the sources of the faults could be hidden from plain sight. Nevertheless, it is always advisable to conduct proper assessments to highlight all the problems so they can be effectively fixed. Through our electrical troubleshooting services, we are able to properly diagnose all kinds of common and complex electrical hitches at your convenience.
You never know when you will need the services of a professional electrician. To give you an easier time in finding electrical solutions, we also offer reliable emergency electrician services that you can always request and receive on demand. Our electricians will be dispatched to serve you in the shortest time.
At Electrical Service Singapore, we also specialize in professional water heater installation, repair and replacement service for HDBs, condos and businesses in Singapore. For quality assurance, our service comes with a 30 days warranty.
Developing a smart home entails a wide range of procedures and modifications but, it essentially refers to a technological solution that enables you to remotely control your home's electrical systems. To help you achieve this milestone without any sweat, we provide professional smart home automation electrical service Singapore.
Ceiling fans play an important role in keeping living and work spaces cool and comfortable. However, the efficiency of the ones in your spaces mainly depends on how they are installed and the conditions in which they are kept. We offer the best ceiling fan installation and repair services for residential and commercial buildings in Singapore.
Electrical safety inspections are critical towards keeping your home or business property in proper condition and, also protecting it from damage. Although it is only common when buying property, you may still want to conduct regular electrical safety inspections even after settling in. Regardless of the size or state of the building, we can perform comprehensive electrical safety inspections at your convenience.
Get a Free Quote for Professional Electrical Services Singapore
There are countless electrical appliances and systems for homes, offices and businesses today. While most of them have relatively similar functions and functions, each requires unique approaches when it comes to installation, repair, upgrade and replacement.
At Electrical Service Singapore, we are a team of professional electricians with experience in a wide range of electrical services. Coupled with our reliable service delivery and affordable rates, we always guarantee lasting electrical engineering solutions.
Apart from the above general electrical services, we also specialize in lighting services, commercial and industrial electrical services and electrical power services Singapore. Talk to us today for a no obligation electrical service quote.
HDB Registered Contractor
License Number: HB-09-5474D