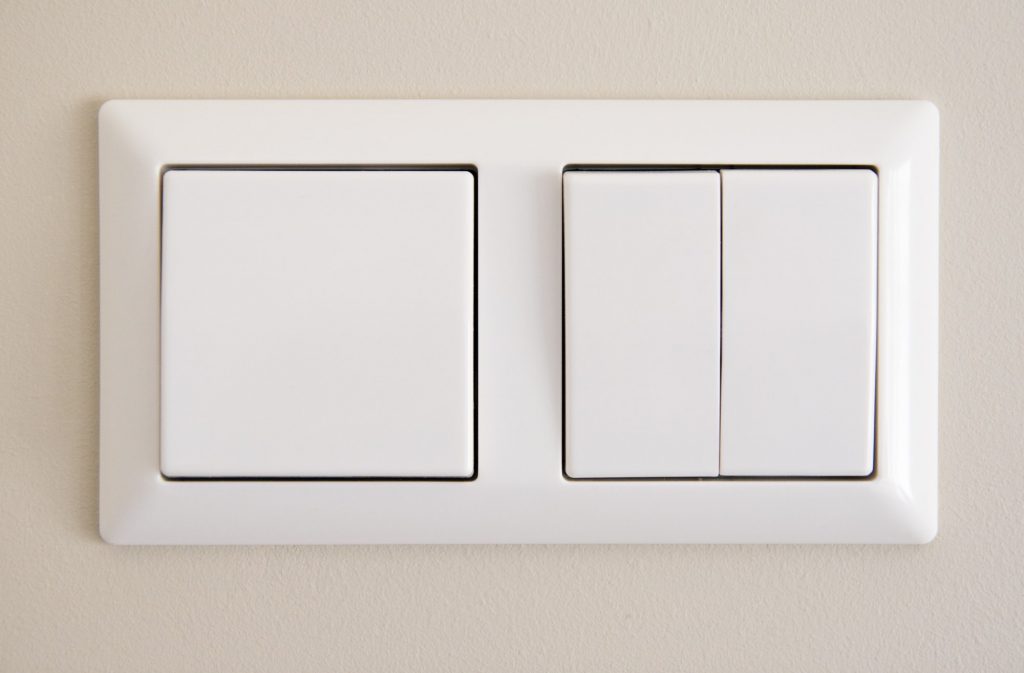 Electrical switches are important in facilitating the connection of electrical appliances and fixtures to power supply. Besides, switches also allow you to conveniently control how you use electricity. That is why they are among the most essential electrical components for your home, office and business premises. However, the efficiency and performance of your electrical switches mainly rely on how they are installed and used.
Similar to other electrical systems, installing switches also require a better understanding of how electric switches work. To an ordinary home owner, these are requirements that can be quite hard to meet. The best way to making sure that your electrical switches are correctly installed is through hiring a professional electrician. At Electrical Service Singapore, we are the professionals in electrical switches installation to engage.
Apart from new electrical switches installations, you may also want to replace existing faulty ones. Regardless of the situation, we have the expertise and experience to always deliver quality workmanship that will truly surpass your expectations. We emphasize highly reliable, affordable and tailor made electrical switches installation service for both residential and commercial establishments in Singapore.
Professional Electrical Switches Installation Services
At Electrical Service Singapore, we understand there are a number of reasons why you may want to install electrical switches in your home. One of the key reasons why many clients come to us for electrical installation service is because of faults with their switches. Generally, electrical switches can experience a wide range of issues including installation faults. In case the switches were poorly installed initially, there are higher chances you may experience problems more often.
Some of the common signs that you need new switches include flickering lights, power trips, electric sparks or shocks, overheating switches and frequently blowing fuses. Broken or cracked switches are also considered dangerous and should be replaced as soon as they are spotted. Besides, home renovations or upgrade of electrical systems and fixtures can also require the installation of new electrical switches for compliance.
In case you have faulty switches, we will first troubleshoot them to find out if they can be fixed. This is important because sometimes, some electrical switches issues can be easily resolved without necessarily installing new electrical switches. As a result, you will be able to save more on utility costs and, also extend the lifespan of the switches that you have. Our company also offers professional electrical repair services and, can conveniently fix the switches.
If the problems are beyond repair, our electricians will recommend and conduct new installations. Whether you need replacement for faulty switches or new installation, we will first conduct an inspection of your spaces to determine the most suitable approaches. During the assessments, there are a number of things that we look into including the overall design and aesthetics of the spaces and your expectations.
Customer Focused Service
After the preliminary assessment, our electricians will discuss the recommended procedures with you and prepare a quotation covering all the aspects of the project. When making the quotation, we are always keen to guide you through every decision so you clearly understand what the project entails beforehand. Our electricians can also help you in choosing the right electrical switches for your needs and budget.
Light switches are the most common form of electrical switches that most people in Singapore are familiar with. However, we install a wide range of electrical switches recommended for homes, office and business spaces. Our electrical switches installation service caters for the following;
Light switches (Light dimmer and ceiling fan light)
Water heater switches
Electric power switches (Wall / Power socket)
The above types of electrical switches that we install in homes and offices also come in numerous designs and models to choose from. Our EMA- licensed electricians will properly guide you in choosing the best switches that will meet your current and future electrical needs. We are equipped with the right skills, tools and equipment for electrical switches installation to ensure lasting solutions in every project. With us, you are also guaranteed affordable rates and a service warranty of 30 days.
Order Electrical Switches Installation Service Singapore
Get in touch with us today to order the best electrical switches installation service Singapore.
HDB Registered Contractor
License Number: HB-09-5474D