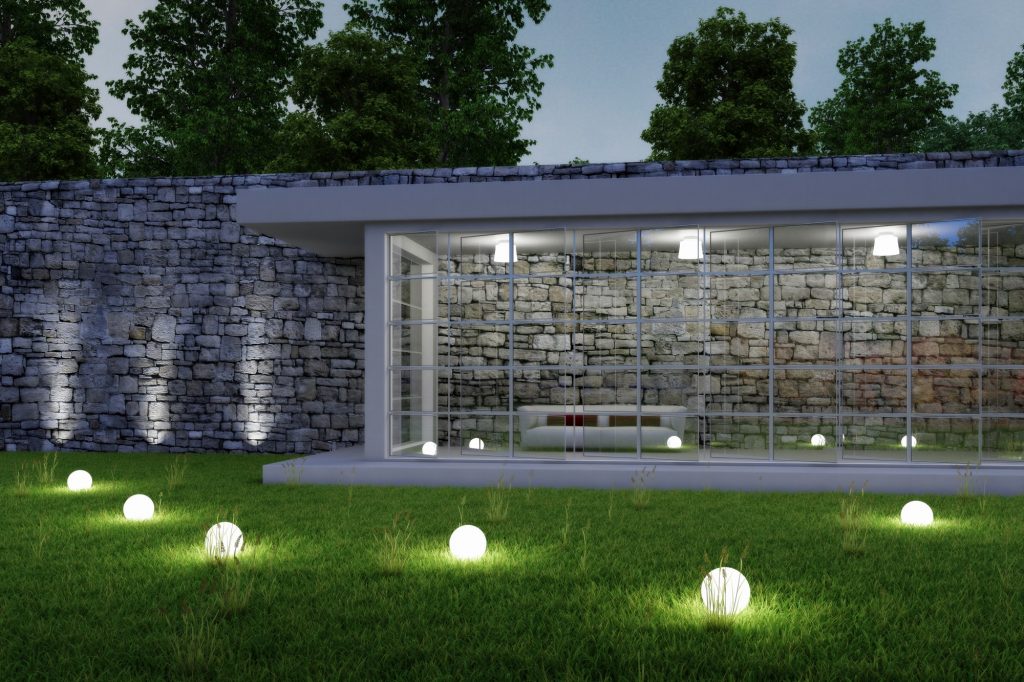 The landscaping in your home or business is an incredible feature with immense functional and aesthetic attributes. A well maintained landscape will not only create an iconic oasis of beauty on the property but, can also significantly improve its overall value. While a landscape consists of various features, adding lights is one of the most efficient ways to improve the functionality and appeal of the centrepiece.
Benefits of Landscape Lighting
Most homeowners and businesses do not often think of landscape lighting as an important procedure. After working so hard and spending huge sums of money to develop a landscape in your home or business, lighting should not seem like a liability. In fact, there are so many benefits that you can experience with landscape lighting. In case you are having second thoughts about landscape lighting, check out its unique benefits below.
Improves the visual appeal of your property
Properly installed lights across the landscape can instantly improve the overall feel and looks of the entire home. Lights can be strategically positioned to highlight different aspects of the external environment, thereby transforming the visual appeal of the property. For instance, lights can be placed on trees and other elements of the landscape like rocks to beautifully bring them to life at night. Landscape lighting will make your home more inviting, stylish and luxurious.
Better security and safety
Installing lights on the landscape can also go a long way in improving the security outside your home. Apart from just improving visibility around the landscape, the lights will also illuminate other external spaces like footpaths that could be risky to walk on when it's dark. You can also add security lighting on the landscape. This could help with preventing accidents and, also scaring away predators and other wild animals from coming into the home at night.
Increases property value
Regardless of the design or size of the property, a well maintained and beautiful landscape with complementing lights can add a lot of points to its overall value. Landscape lighting can be strategically positioned to give the property a unique touch of style and a positive impression that could offer you an added advantage when selling it. Exterior lighting is one of the characteristics that most home buyers today look for and, having a well lit landscape can enable you attract a number of potential suitors.
While it is not a common practice in Singapore, there are some home insurance companies that can offer you discounts if your home has better exterior lighting. This means proper landscape lighting can also help you reduce the costs of your home insurance premiums. But, all these benefits can only be achieved if the lighting for your landscape is done by a professional that understands the process.
Professional Landscape Lighting Solutions Singapore
Whether you already have a landscape on your property or currently developing one, our company can provide the best landscape lighting solutions at your convenience. We specialize in custom landscape lighting services, offered in accordance with your specific expectations. We emphasize comprehensive landscape lighting solutions that will not only transform the appeal of your property but, also improve security and its value.
Our landscape lighting service takes into account all the functional and aesthetic benefits of lighting. As such, our electricians pursue unique outdoor lighting approaches and can also install different kinds of lights on strategic positions across the landscape to bring out the desired feel and look on your property. We emphasize highly efficient and beautiful yet, unique landscape lighting that truly complements your home and business.
Whenever you hire our company for landscape lighting, we will first visit the property to assess the landscape and determine the most suitable lights and lighting fixtures. After the inspection, our consultants will discuss with you about the recommended lighting solutions for the landscape based on your needs and budget. Some of the types of lights for landscape that we can install for you include.
LED lighting
Bullet and wash lights
Downlights
Our electricians will help you choose the best quality lights and lighting fixtures for your landscape and budget. We are keen on making sure that your landscape is accorded custom lighting solutions that will give the property an improved appeal, better security and increased value for years to come. Simply contact us for tailor made landscape lighting solutions Singapore.
HDB Registered Contractor
License Number: HB-09-5474D