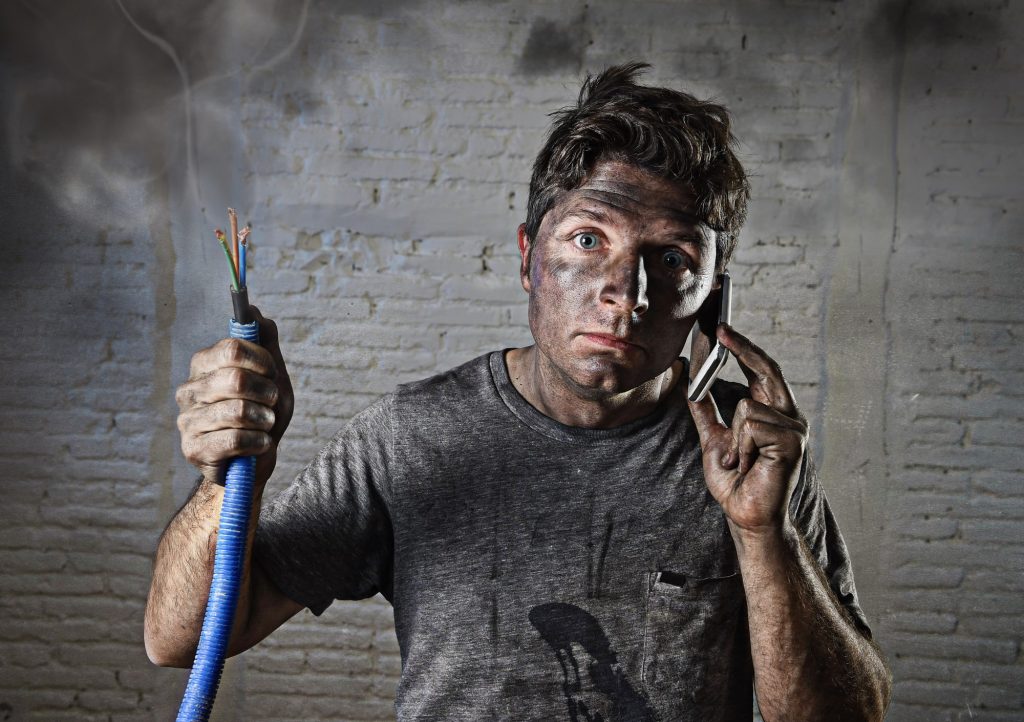 Electrical faults are some of the most frequent problems that many homeowners and businesses have to deal with. Whenever the electrical systems or appliances in your home experience an issue that affects their performance, the first thing that often comes to mind is fixing it by yourself. Sometimes, people consider DIY because they think the issues are trivial and do not necessarily warrant hiring an electrician.
Others also assume that attempting DIY electrical repairs is cheaper and helps with cutting costs. While the above could be true, there are greater dangers that come with DIY electrical repair. And, that is why it is always recommended to leave electrical repair works to professional electricians.
The following are the main reasons why you should avoid DIY electrical repair.
Safety
Regardless of the particular repair works required in your home, office or business, safety is always a top priority that must be observed at every level. Fixing electrical systems and appliances entails a wide range of procedures that you can only safely perform with electrical engineering expertise. Even the slightest mistakes could impact serious consequences including electrocution, injury and fire. Professional electricians are trained on all kinds of electrical repair works and know how to safely conduct all the procedures involved without putting lives or your building in danger. After doing the repair, a good electrician will also advise you further on how to maintain safety standards when using the system.
Observing electrical inspection rules
Every country has stipulated standards for all electrical components that also apply to Singapore. The inspection rules are aimed at making sure that all electrical components are safe and efficient for use in living and work spaces, which means that every electrical system and device in your home must meet the standard requirements. When you do the repair works on your own, it is easy to overlook the element of inspection. As a result, you could end up causing even a much bigger electrical issue. Licensed electricians have proper knowledge of all the electrical aspects that should be thoroughly examined during repair to ensure a proper inspection and repair for all your electrical systems and appliances.
Effective troubleshooting
Electrical faults usually present a wide range of symptoms that can easily tell you whenever there is an issue than need repair. However, there are also some complex issues that can be very hard to diagnose since they hardly present any clear symptoms. With DIY electrical repair, there are many issues that you may not be able to properly troubleshoot, perhaps, because of lack of better skills or tools for the job. If you are unable to properly troubleshoot electrical problems, even the repair will be substandard. Experienced electricians understand the most effective approaches for troubleshooting different kinds of electrical issues. Today, professional electricians also integrate intuitive technologies to precisely diagnose issues with different kinds of electrical systems and devices.
Quality workmanship
Contrary to what some may think, electrical repair does not only involve fixing the faulty component. The essence of repair is to enhance the performance and efficiency of the system over time, which entails a wide range of procedures before, during and after the repair. When doing electrical repair on your own, there are lots of important procedures that you may ignore, hence, resulting into recurring costly electrical repairs. Licensed electricians have outstanding electrical engineering skills, experience and tools for the job. Besides, they also risk losing their licenses in case they fail to deliver quality services that meet the industry standards. It is because of all these that professional electricians are always very keen on making sure that their clients get the best quality workmanship.
Long term cost savings
Although some people usually think that DIY electrical repair is a cheaper option, it can cost you a lot more. Without expertise and the right tools for electrical repair, you are likely to cause serious damage to the systems and appliances. The result of such actions will be huge repair costs over time. Hiring a professional electrician will ensure that the issues are properly diagnosed and fixed at once, thereby saving you a lot of money in the long term.
Are you looking for electrical repair Singapore? Get in touch with Electrical Service Singapore today for reliable and affordable electrical repair and replacement services Singapore.
HDB Registered Contractor
License Number: HB-09-5474D